SOUL THRIVE
Retreat




April 2–9, 2023
FARM OF LIFE
COSTA RICA




Is your soul yearning to thrive?


Join us in the spectacular rainforest of Costa Rica for extraordinary nature excursions, nourishing organic meals, empowering workshops, relaxation, play, & self-reflection.
Uncover untapped potentials encoded in your innermost being that spark your soul essence to shine radiantly as a beautifully unique expression of the divine.
Reconnect with nature and your soul while discovering how to vividly envision, creatively cultivate, and exuberantly experience a more vibrantly thriving existence.
Empower your soul to thrive
Retreat Details
Our 7-Day SOUL THRIVE Experience includes:
Roundtrip Transport from San Jose

7 Night Stay at the Farm of Life

Nourishing Organic Meals

Farm of Life Prana Tour

Morning Yoga Flow

Cacao Ceremony

Sungazing Guidance

Afternoon Leisure Time

Midweek Laundry Service

Soul Empowerment Workshops

Personal Reflection Time

Full Moon Ceremony

Nature Excursions

Ecstatic Dance

Journaling Sessions

Campfire Sharing Circles

Group Integration Zoom Call
(post-retreat)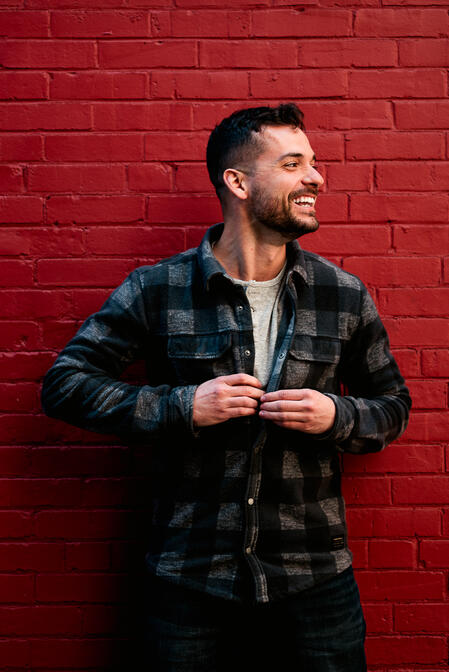 Nick Wright
Nick Wright is a Life Coach, Workshop Facilitator, Spiritual Teacher, Evolutionary Astrologer, Musician, and Freestyle Rapper.After graduating with a Master's Degree in Education he started his career working as a special education teacher. After that he began working at a prominent rehabilitation center for addiction recovery as the lead group facilitator and curriculum designer.In 2017, he transitioned into entrepreneurship, forming his successful life-coaching business, Cosmic Empowerment, so he could teach his personal philosophy. He leverages various spiritual modalities to help people become the best versions of themselves and serve the world with their unique gifts.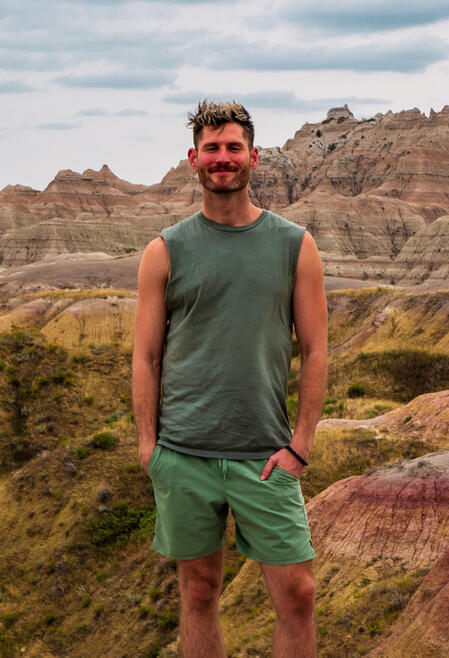 Bryant Huether
Bryant Michael Huether is a Self-Acceptance Advocate, Coming Out Coach, Microdosing Mastermind Mentor, Avid World Traveler, Landscape & Nature Photographer, & Founder of The Thrival Guide LLC.Over the last decade, he's embraced his homosexuality, navigated the grief of his father's unexpected passing, explored parts of 33 countries, and invested significantly in his ongoing personal growth. Although he strives to thrive, he has learned to celebrate, with gratitude, surviving every day of his life!Bryant possesses a passion for empowering people from all walks of life to realize that the key to their freedom & fulfillment can be found within; inspiring them to accept, embrace, & express their authentic selves so they may experience an adventurous, flourishing, joy-filled existence.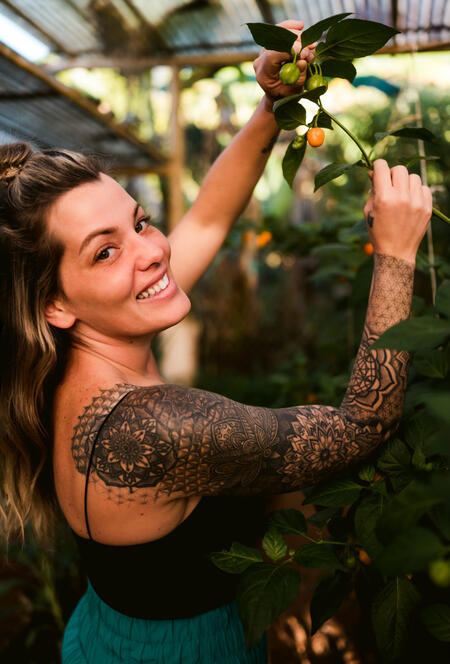 April Piotrowski
April Piotrowski is a successful Entrepreneur, Wedding & Portrait Photographer, Mentor, Transcendental Explorer, and Psychedelic Integration & Transformational Recovery Coach.Through a dynamic history of overcoming her own struggles using various modalities of self-healing, mentorship, and plant medicine journeys, her areas of focus include shadow work, micro-dosing integration, cultivating healthy relationships between the sacred masculine and feminine, inner child work, grief work, and divine feminine healing.April is passionate about supporting others in deep inner reflection, overcoming shame through healing childhood trauma, finding empowerment through self-acceptance, and reclaiming a sense of individual wholeness for greater collective harmony.
Finca de Vida
Farm of Life
The three of us are enthusiastically grateful to have the opportunity to co-facilitate this soul-enriching, rejuvenating retreat at the phenomenal Farm of Life.Nick & April have attended retreats at this marvelous location and have forged a friendship with Farm of Life's owners Brian & Jody Calvi.Brian & Jody's respective journeys recovering from chronic disease inspired them to open "Finca de Vida" to support people to heal & thrive.They host numerous retreats each year and have superb support staff on-site to ensure all guests have an exceptional experience.
Our Vision
Our intention is to gather a group of growth-minded, heart-centered humans who share a desire to connect more deeply with nature, one another, and themselves while acquiring clarity on what conditions, elements, and narratives best empower their unique soul essence to radiantly shine & vibrantly thrive.We enthusiastically invite you to this existence-enriching experience within a rejuvenating environment where you'll be safe & supported to inquisitively explore, lovingly embrace, & unapologetically express your magnificent self.We'll have a variety of vibe-elevating activities, illuminating discussions & workshops, and freeflow time for relaxation, play & connection, along with ample opportunities for both internal and external exploration within the marvelous Costa Rican rainforest.You'll be equipped with effective tools, empowering mindsets, and relevant practices to sustain your growth and maintain momentum as you return home to integrate your discoveries and realizations.Our desire is for you to depart this experience feeling enlivened, energized, and empowered to embody a more confident, courageous, creative, revitalized, authentically expressed, vibrantly thriving version of yourself!


Tentative Itinerary
Sunday, April 2
Day 1
Shuttle from San Jose
Baru Beach
Lunch
Check-in & Orientation
Welcome Dinner
Opening Campfire Circle
Sound Bath
Monday, April 3
Day 2
Yoga
Breakfast
Goddess Falls Excursion
Lunch
Farm of Life Prana Tour
Sunset Personal Reflection Time
Dinner
Evening Activity
Tuesday, April 4
Day 3
Yoga
Breakfast
Workshop
Lunch
Cacao Ceremony
Sunset Self-Reflection Time
Dinner
Evening Experience
Wednesday, April 5
Day 4
Breakfast
Diamante All Day Nature Immersion
Picnic Lunch
Sunset Self-Reflection Time
Dinner
Full Moon Ceremony
Candlelit Yin Yoga


Thursday, April 6
Day 5
Yoga
Breakfast
Soul Quest
Lunch
Sunset Self-Reflection Time
Dinner
Time to Thrive Workshop


Friday, April 7
Day 6
Qi Gong
Breakfast
Nayaca Falls Excursion
Freeflow Time
(Massages Available)
Sunset Self-Reflection Time
Dinner
Ecstatic Dance
Saturday, April 8
Day 7
Yoga
Breakfast
Peace Falls Excursion
Lunch
Final Workshop
Sunset Self-Reflection Time
Dinner
Closing Circle
Room Options
Coconut & Monkey Houses
(Casas Coco y Mono)
Coconut and Monkey houses boast epic views of the surrounding mountains and to the distant Pacific Ocean. Each cabin has a pair of queen beds, walk-in closet, private bathroom, outdoor shower and balcony with hammocks and rocking chairs. They are fully equipped with electricity, hot showers, flush toilets, ceiling fans, screen windows, canopied bed and Wifi.The outdoor showers are an exotic experience. In Casa Mono, the Deity shower backs up to the forest, where monkeys and birds may be peeking in on you. In Casa Coco, the spiral shower with painted jungle murals is it's own world. These two cabins are located closest to the Yoga Rancho than anywhere else. It is a 5-minute downhill walk from these cabins to the Dining Hall.
Remaining Availability
Monkey & Coconut Houses
(2 Queen Beds in each house, private outdoor shower)Private Room: $2910
2 persons in Room $2195 ea
---
Butterfly Suite (Mariposa Suite)
Awaken to the enchanting sounds of tropical birds, the distant voice of the howler monkeys, and the gentle warmth of the sun rising over the mountains.The Butterfly Suite is perched on a hillside overlooking the deep green jungle of the Bora Canyon Nature Preserve. The room has a queen bed, private indoor bathroom and outdoor balcony with hammock and rocking chairs. Fully equipped with electricity, hot shower, flush toilets, ceiling fans, screen windows, canopied-bed and Wifi.
Remaining Availability
Butterfly Suite
(Queen Bed & Private Indoor Bathroom)
RESERVED
Private Room: $2390 ea
Shared Room: $2085 ea
---
Toucan & Macaw (Tucán y Lapa)
Toucan and Macaw are bunk rooms that can each accommodate up to 4-people. Perched on a hillside, the decks overlook a lush, green valley and the Pacific Ocean in the distance. Frequent sightings of Hawks' adrift on the air currents and Toucans.There are two side-by-side rooms - the Toucan and Macaw rooms. Each room has 2 sets of bunk beds, a private indoor bathroom and balcony with hammock and rocking chairs. Fully equipped with electricity, hot showers, flush toilets, ceiling fans, screen windows and Wifi.
Remaining Availability
Toucan Bunkroom: 4 bunk beds
Macaw Bunkroom: 4 bunk beds$1960 ea
---
Cabin in the Orchard
(Ceiba & Ylang Ylang Rooms)
Cabin in the Orchard is settled in a fruit orchard and surrounded by Ylang Ylang trees. This lovely accommodation is built entirely of wood - gorgeous purple heart and cedar - with large windows and French doors. This cabin contains two adjacent rooms – The Ylang Ylang and Ceiba rooms.The rooms can be configured to have either a king bed or 2 twin beds. Each room has a private entrance and a private outdoor bathroom including a shower, and is equipped with electricity, hot water, flush toilets, ceiling fans, screened windows, and Wifi. Guests enjoy showering under the stars, surrounded by Bougainvillea blooms. A spacious front porch connects both rooms and commands a direct view of the evening sunsets, and the balconies have hammocks as well!
Remaining Availability
Ceiba: 1 King or 2 Single Beds
Ylang Ylang: 1 King or 2 Single BedsPrivate Room: $2390
2 persons in a room: $2085 ea
Ready to Thrive?
To secure your spot, complete this intake form and send a deposit of $1111 via Venmo, PayPal or Zelle
PayPal: [email protected]
Venmo: @nick-wright-26
Zelle: +1-605-389-0875 (Bryant)
Note "Soul Thrive Deposit" in the payment description.You'll receive a confirmation email
once your deposit has been received.
Web page created by Bryant Michael Huether